Alarm receiving center by Dussmann
Cutting-edge technology. Superior quality.
We offer the service of PCO or Centralized Protection Counter. This means that the company has built its own dispatching station that constantly guards the objects secured by electronic security alarm system (EZS) or electronic fire alarm system (EPS), which are connected to the console. All the information that the electronic signalling system is capable of providing can be transmitted to this console.
Added value through services
Minimized liability risks
Constant availability
Guaranteed response times
Significant cost savings
Our services in detail
Hazard alarm technology: This includes alarms about robberies, break-ins, fires, and gas leaks, along with system and equipment status reports (armed/disarmed, on/off)
Personal emergency call: Used in situations such as individual or particularly high-risk workstations or remote switching or control measures such as remote opening of doors or barriers
Especially in the case of hazard alarms, it is important for you to be able to rely on your technical systems. Click here for all of the important details: Dussmann building technology
Alarms from 24h live remote monitoring with long-range effect (such as making announcements to perpetrators)
Reports and alarms received via phone, e-mail, or technical systems are received by our alarm receiving center and processed by our emergency call and service control center
Further processing of your alarms is ensured through action plans, escalation routines, and intervention services
Building technology: This includes access control systems, building communications, alarms such as elevator emergency calls, disruptions in HVAC systems, problems with the energy supply, and faults in lifting pump systems
Operating technology: This includes alerts such as temperature monitoring in the case of refrigeration equipment, monitoring of the functioning of feed pumps, and the sequence of automatic production processes
Alerts from incident coordination units (global alerts)
In the area of fault alarm and building control technology, as elsewhere, it is important for you to be able to rely on your technical systems. Click here for all of the important details: Dussmann building technology
Contact directly near you
Use our location search feature to find the right point of contact near you and contact the appropriate branch location – by e-mail, phone or simply by using our contact form.
Mobile video surveillance
Whether construction sites or material stores, access roads, vehicle and machine parking areas or critical infrastructures: our mobile monitoring concept, Dussmann Security Guard, guarantees effective monitoring of your properties - in all lighting conditions and in all weathers.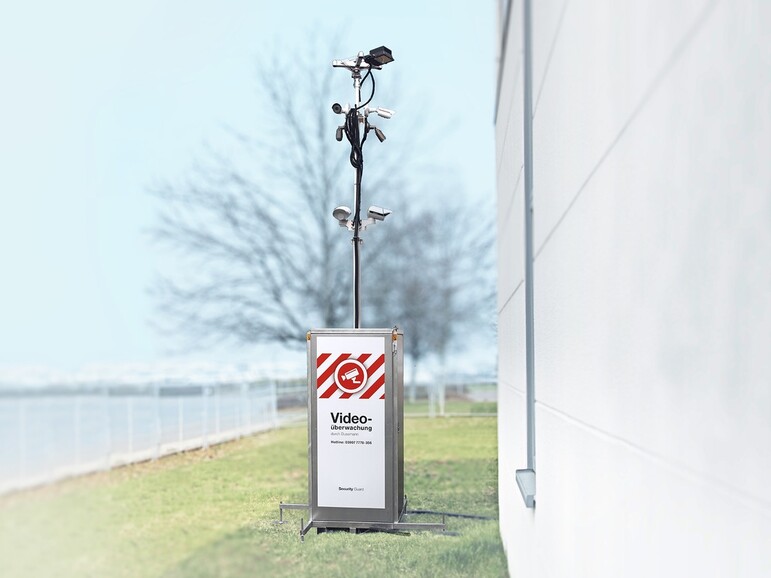 Security service by Dussmann  
Security – 24/7, 365 days a year
With Dussmann, you can always rest easy knowing you are safe and secure – with our alarm receiving centers and more. We offer a wealth of different security services, which we work with our customers to craft into customized personal solutions – from constant availability to services individually adjusted to your needs.